Briggait fishes for artists
|
Send to friend
September 2 2008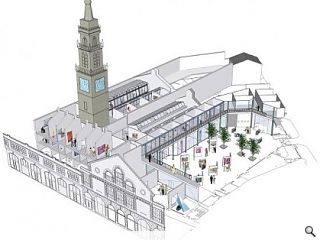 The historic Briggait is to be given a new lease of life this August by architects Nicoll Russell Studios and engineering consultancy Buro Happold. Work is due to start on the transformation of the 19th century former fish market into an exciting new resource for visual artists in Scotland. The Scottish Arts Council Lottery Fund and Heritage Lottery Fund are both backing the project.
By the end of 2009 The Wasps Trust, in partnership with Wasps Artists' Studios, is to transform the Briggait into a £6.3m venue with 69 studios for visual artists, office space for cultural organisations and creative industries, two display/ exhibition spaces, a café and new public space within an historic 1873 courtyard.
The intention has been to minimise disruptive works, hence new studio constructions within the existing shell are formed as lightweight timber structures in the existing 1889 and 1904 halls. New foundations are constructed as simple raft foundations to spread the loads and minimise differential settlements between new and old. Where possible the existing structures will be retained and repaired where necessary.
Within the constraints of the building's age and listed status, energy conservation has been achieved through the use of natural light and by redefining the building's heating envelope. The large atrium spaces are considered as buffer zones between fully inhabited and external spaces, therefore reducing the heating demand for the building.
Buro Happold project director Matthew Smith says "there is something particularly rewarding about being able to save an old neglected building, and give it a new lease of life. Even more so when the client is so committed to creating a new vibrant community of artists in the centre of the city. We're all looking forward to seeing the building work start on site".
This unusual building, (it has a 17th-century steeple), is to be leased from Glasgow City Council on an 80-year period set at £1 a year, in order to put the Briggait at the heart of plans to make the Merchant City and surrounding area a cultural quarter for the city.
Architect views of Briggait Building are copyrighted to Nicoll Russell Studios.
Interior shot is copyright of Wasps Artists' Studios/Andrew Lee.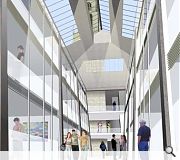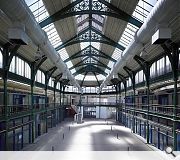 Back to September 2008