Council acquiesces to unauthorised Kinross demolition
|
Send to friend
September 23 2019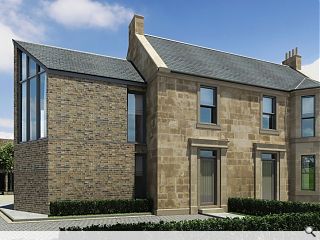 Perth & Kinross Council has granted the go-ahead to a controversial residential development on Kinross High Street after a 200-year-old sandstone villa (latterly used as a garage) was demolished without permission.
Kirklands Apartments is being spearheaded by Kirklands Development Group and Hypostyle Architects for the town's conservation area, with the original aim being to incorporate part of the existing site to allow two houses and four flats to be formed. In June however, the developer moved to unilaterally clear the whole site without permission, prompting the council to freeze the project indefinitely.
Now a new application to proceed with the scheme behind a rebuilt manse façade in reconstituted stone has found favour with the authority despite drawing a sharp rebuke from Kinross-shire Civic Trust who fear the decision sets a dangerous precedent for other at-risk buildings.
In a scathing comment, the trust wrote: "Not only was the demolition unauthorised, but it was also carried out in a reckless, indiscriminate manner with a digger, thus damaging the ashlar blocks. If the down taking of the walls were truly necessary, a responsible developer who intended to restore the facades to their original form would have taken the walls down by hand, numbering the blocks."
The developer had argued that it had been left with 'no choice' after the removal of underground fuel tanks destabilized the manse building, although this is disputed.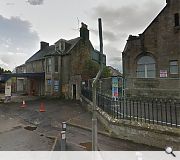 Kinross-shire Civic Trust point out that the fuel tanks could have been left in-situ
Back to September 2019