Edinburgh's largest ever planning application approved
|
Send to friend
September 1 2008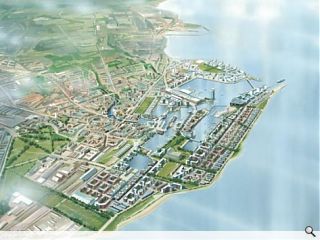 The City of Edinburgh Council this week (Wednesday, 27 August 2008) gave outline planning permission for a development framework for Leith Docks, the largest planning application in Edinburgh's history. The framework, designed by RMJM for Forth Ports, will regenerate the area as part of the city's long term vision to transform Edinburgh's waterfront into a vibrant sustainable community and an internationally renowned leisure destination.
The framework outlines the development of nine new interconnected sustainable waterfront villages on 144 hectares of brownfield land, an area larger than Edinburgh's Georgian New Town. The main features of the framework include plans to create up to 15,200 new homes (including up to 3,800 affordable homes), 35 hectares of new open and civic space, public walkways and almost 3km of coastal boardwalk will become accessible for public use.
Each village will be masterplanned individually or in pairs by a range of masterplanners and architects over a 30 year period. These villages will maintain strategic views to key landmarks in the city centre, including Edinburgh Castle, Calton Hill and Arthur's Seat.
Nathan Ward, Associate Urban Designer of RMJM said: "The Leith Docks outline planning application has been developed in close consultation with local residents, community groups, businesses and the City of Edinburgh Council since 2003 and we're delighted that outline planning permission has been granted. The framework outlines exciting regeneration plans that will provide homes and jobs for thousands of local people, including new parks, public spaces and areas for events and festivals and will transform Edinburgh into an international waterfront city over the next 30 years. "
"The framework also incorporates an extensive network of footpaths, cycle routes and a main terminus for Edinburgh's new public tram system, which will connect the waterfront to the city centre. The area will also appeal to visitors as an exciting travel and leisure destination in its own right, adding a waterfront city experience to compliment the popular historic attractions of Edinburgh's Old and New Towns."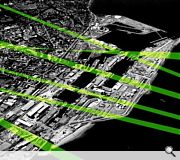 Back to September 2008