North Ayrshire jumpstarts council house building programme in Irvine
August 27 2019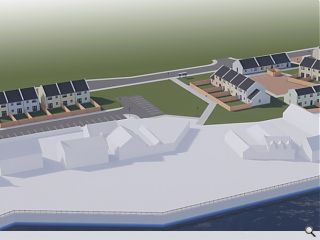 North Ayrshire Council has brought forward plans to erect 71 harbourside homes on land formerly occupied by the Magnum Leisure Centre as part of the 'Great Harbour' masterplan.
Part of a pledge to build 1,375 new council homes by 2024 the scheme will provide a mix of wheelchair accessible, amenity and sheltered housing together with properties for general occupation, in a mix of traditional-style pastel-coloured terraces.
In a design statement, the authority wrote: "The overall development has been designed to maintain a similar scale and density to the existing harbourside area. The blocks have been positioned to create defined street frontages throughout the new development. A new street will be created through the site, forming a connection between Beach Drive and Harbour Street. This new street has been designed to encourage pedestrian use of the route. An area of open ground will be provided at the centre of the site, retaining the existing pedestrian link between Beach Drive and Harbour Street.
"A children's play park will be located within this area making it a valuable amenity space for the development.
The first phase of this work will deliver 13 homes on a former car park.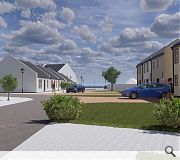 All properties will be given a render finish in a pastel colour palette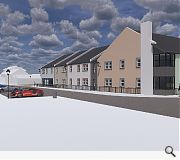 The high amenity location is well placed for the rvine Beach Park, Scottish Maritime Museum and Harbour Arts Centre
Back to August 2019