'Walled garden' Kilmacolm home to provide artists sanctuary
August 16 2019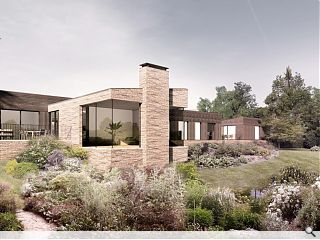 A formal bid has been made to build a bespoke private home and artist's studio within the Kilmacolm conservation area following the submission of plans to Inverclyde Council by the newly formed Technique Architecture & Design.

The three-bedroom home would entail demolition of an existing 1970s bungalow off Porterfield Road and is intended to resemble a 'walled garden' by screening grounds behind protective masonry walls of hand-cut rustic red brick.

This would be emphasized by an enclosing wall extending past the house to an artists studio, allowing a south-facing courtyard space to be formed between the two structures with private garden areas finished with dark stained timber cladding punctured by large picture windows.

In an associated design statement, the architect wrote: "The design does not seek to replicate the surrounding dwellings, which themselves display a large variation in styles. Instead, it offers a positive contemporary contribution to the area which is low lying, unobtrusive and uses the highest quality of materials."

The main living space will boast an uninterrupted glazed panorama broken only by a feature fireplace.
A mix of passive and mechanical systems will offer enhanced environmental performance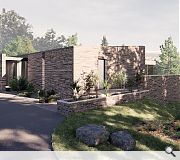 Rustic red brick walls will protectively embrace secluded garden areas
Back to August 2019