Shawfair lands 1,000 homes as sixth developer signs up
August 8 2019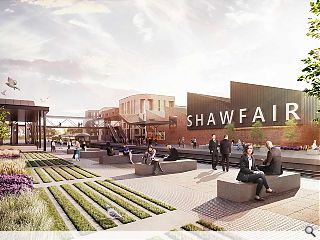 Developers behind Shawfair, near Danderhall, have sold off 6.5 acres of land to Stewart Milne Homes - the sixth housebuilder to sign-up for the project.
Assuming planning consent is forthcoming the deal brings the number of homes either under construction or approved across the site to over 1,000, a quarter of the 4,000 properties ultimately envisaged.
Designs for the town centre include a zero-carbon heating system by Midlothian Council which will harness the energy produced by the Millerhill Energy from Waste plant.
Nick Waugh, director of Shawfair LLP, said: "We are progressing plans for an attractive and sustainable town centre beside the existing railway station, with community and health facilities, schooling, nurseries, shops, homes and businesses – everything that a vibrant, thriving community needs to flourish."

Gerry More, group managing director for Stewart Milne Homes, added: "Stewart Milne Homes is focused on creating developments with a strong sense of place, through appealing streetscapes and sympathetic designs...

"Shawfair meets Stewart Milne Homes' criteria that our communities should have good transport links and infrastructure to access both amenities and outdoor life."
Stewart Milne joins Bellway, Dandara, Mactaggart & Mickel, Miller Homes and Places for People at Shawfair, where 200 homes have already been completed.
Back to August 2019