Hawick active travel network takes shape
|
Send to friend
July 29 2019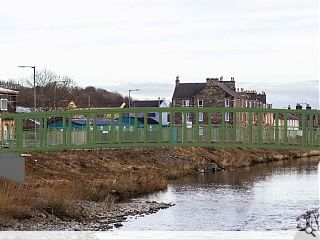 Scottish Borders Council is pushing ahead with a new active travel network for Hawick, necessitating replacement of existing pedestrian footbridges to accommodate wider spans and ramp access.
Victoria, Mansfield and Lawson bridges would all be replaced under plans drawn up by Jacobs which will be enacted concurrently with a flood protection scheme.
This foresees a shared use cycleway skirting the River Teviot which is being bolstered by new flood defence walls along both banks through the town centre, with the opportunity being taken to introduce a shared-use cycleway up to 4m in width following a part-funding agreement with Sustrans.
In a planning statement, Jacobs wrote: "The bridge alterations, as part of the HATN, would fall within the definition of a local green network, given the connectivity it will provide and its proximity to the substantial natural habitat created by the River Teviot.

"The proposal comprises of substantial enhancements, to what is part of an existing active travel route, which will improve accessibility and connectivity within Hawick, ensuring greater accessibility to key natural environments such as the River Teviot and the Little Haugh."
Additional engineering works will also take place along the river corridor to facilitate the route including a new underpass below Waverly Bridge and widening existing paths.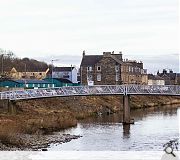 A view of the current Mansfield bridge
Back to July 2019