Richard Murphy Architects chosen to deliver Leith Custom House feasibility study
Send to friend
* Required fields
|
Send to friend
July 15 2019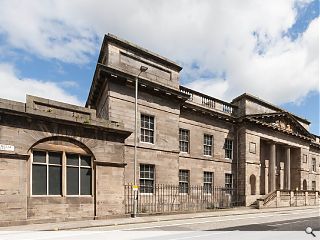 Richard Murphy Architects have been selected by Scottish Historic Buildings Trust and City of Edinburgh Council to author a feasibility study for Leith Custom House by the end of the year.
Intended to secure the long-term future of the building the study will look at a range of options for repurposing it for the display of artefacts belonging to the Museum and Galleries Leith collection.
Richard Murphy Architects Director Bill Black: "Richard Murphy Architects are delighted to have been selected to work with SHBT on developing a truly exciting future for the Leith Custom House. Working creatively with historic buildings is something that has held a long fascination for us and is an important part of developing and maintaining our city's heritage. We look forward to the challenges that this study will explore and the opportunities it can bring for the people of Leith."
Purchased by the council in 2015 the building has been transformed into an art hub offering studio rooms, an event space, meeting rooms and a café.
Back to July 2019