Glasgow City Council serve Egyptian Halls ultimatum
|
Send to friend
July 9 2019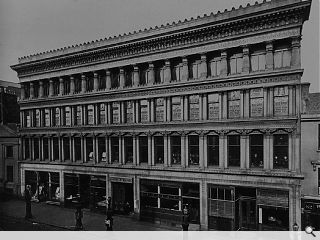 Glasgow City Council is attempting to break a stalemate in long-running efforts to preserve and regenerate the historic Egyptian Halls on Union Street by serving an ultimatum to its owner to carry out vital repairs.
Dundonian developer Derek Souter has been given until tomorrow to respond to its demand for concrete proposals to be brought forward for essential maintenance – or face enforcement action amid an increasingly acrimonious dispute over where the responsibility for meeting the repair bill lies.
The council asserted that no 'meaningful' maintenance has been carried out on-site since it articulated a list of its concerns to Souter in a letter dated August 2016.

A council spokesman said: "We wrote again to Mr Souter in June giving him 28 days to propose how he will undertake essential maintenance. If he fails to produce any such proposals by July 10, we will consider how best to use available legislation to compel the work to be carried out."
Souter vowed to respond to the demand by tomorrow's deadline and repeated calls for cooperation, telling Urban Realm: "I confirm that quarterly maintenance was carried out last week, which saw the parapet cleaned and swept of all pigeon guano, pigeon spikes re-fixed, roof cleaned, vegetation stripped back, rainwater pipes checked and some broken glass in a few windows removed, which has been carried out every quarter for the past 5 or 6 years.
"So one does wonder where the Sunday Times got the false and misleading information that this was not being actioned?"
Souter also stated that USP, the company that now owns the ground floor, will reiterate that it holds the council liable for a lack of maintenance carried out in the period 1996 to 2010 under the terms of a compulsory purchase order.
The dispute comes amid an ideas competition spearheaded by the GIA to elicit viable reuse proposals for the A-listed masterpiece.
Back to July 2019