Urban Realm gets health conscious with wellness special
|
Send to friend
July 1 2019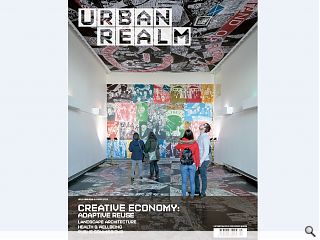 The concept of wellness has long been rising up the political agenda and with the enthusiastic embrace of the NHS such aspirations are now being realised by a new generation of medium-scale health centres which are seeking to bridge the gap between individual GP surgeries and hospitals.
We take a look round two of the most recent at Woodside and the Gorbals to see how these principles are being put into practice.
Elsewhere we look at how marginal buildings can be nursed back to life, putting a spring in the step of edge locations in the process. We speak with those on the frontline who are regenerating forgotten structures and conclude with a tour of Edinburgh Printmakers.
In doing so we show that our individual wellness is intrinsically tied to the environment around us.
We also take time to explore the cutthroat world of open public commissions to ask whether the systems underpinning procurement are delivering broader benefit and to find out where the truth lies.
It is in the broadest pictures that we see most clearly and in that vein, we bring you the nominees for this year's Scottish Design Awards and cover a lot of ground with the return of our in-depth landscape architecture focus.
This is a packed issue so make sure to be among the first to pick up your copy.

Back to July 2019