Edinburgh car park runs out of road
|
Send to friend
June 25 2019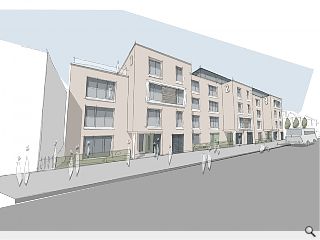 An Edinburgh car park has been earmarked for 35 new flats under plans filed by EMA Architecture + Design for land adjacent to Chesser House, which is now undergoing refurbishment itself.
Elfin Square on Gorgie Road is proposed to be brought into residential in line with similar developments in the vicinity, creating a new street frontage in the process. Clad in brick below a recessed upper finished in dark grey cladding the project seeks to provide a more welcoming pedestrian environment.
In a statement, an EMA spokesperson said: "The application proposes the conversion of the existing car park site adjacent to Chesser House on Gorgie Road, into new residential apartments. The proposals aim to resolve the existing poor relationship between the site and the street, by forming a continuation of the street frontage."
Recessed entrances will provide shelter and 'defensible space' from the street.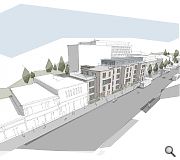 Residential development is transforming this stretch of Gorgie Road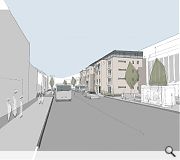 The urban environment of Gorgie Road will be enhanced
Back to June 2019