Borders hotel braced for significant expansion
|
Send to friend
June 20 2019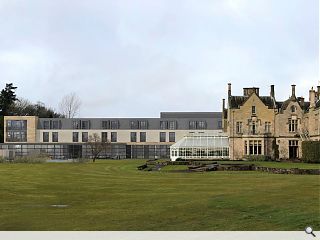 The B-listed Roxburghe Hotel near Kelso is to be transformed into a 'destination resort' under plans to radically extend the existing 20-bedroom hotel by its new owners.
12.18 Investment Management has commissioned Ian Springford Architects to build an additional 62 bedrooms in a rear wing while also introducing a new restaurant, spa and conference venue, as well as accessible facilities in support of a further 60 woodland lodges.
The pared-back contemporary extension will be finished in a mix of stone and zinc to marry with its historic neighbour with individual functions expressed as separate pitched-roof forms to break up the massing.
In their design overview, the architects observed: "The extension is at its simplest adjacent to the existing house but becomes progressively more animated through towards the south. The extension is terminated by a taller, stone gable to the building to negate the impression that it could be extended indefinitely and to break up the scale of the extension along the length of it."
An external spa garden and terracing is also proposed to further wed the extension to the landscape.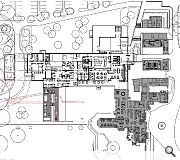 restaurant and spa areas are predominantly glazed to maximise views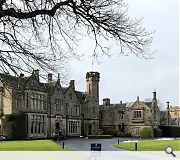 The new extension will be oriented oln a north/south axis perpendicular to the main hotel
Back to June 2019