Turnaround plan put forward for Perthshire Water Mill
|
Send to friend
June 18 2019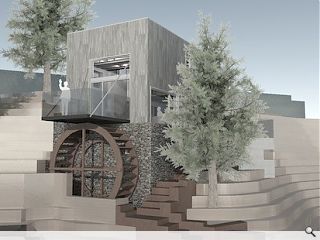 An abandoned Perthshire water mill is to turn once more with an application to transform the ruin into a home office/granny flat within the grounds of the Old Mill, which was converted to residential use back in the 1970s.
Dating from 1745 the two-storey Pin Mill has lain disused since being damaged by fire in 1939 with its original timber wheel long since gone, sparking a desire to look at its reinstatement.
A new Scottish larch clad structure would be built within the footprint of surviving walls to the approximate height of the original roofline, utilising a flat roof parapet to conceal a green roof terrace and PV panels.
Citing Falling Water as inspiration Atelier M wrote in their design statement: "It is aspired to bring the Pin Mill back to life and reintroduce the timber wheel and reopen the laid so that electricity could possibly be generated.

"The main wheel may not need to turn but a smaller efficient water turbine could be installed as part of the works within a wider environmental strategy for the redevelopment of the structure. The proposed building aims to be a contemporary, flexible, multi-use, thermally efficient structure that will be light and airy with varied volumetric spaces creating connections to its surroundings with stunning views and vantage points."

Projecting balconies would be positioned at different levels to afford varied water views along the Knapp Burn.
Back to June 2019