Design review brings order to Bridgeton infill housing
|
Send to friend
June 14 2019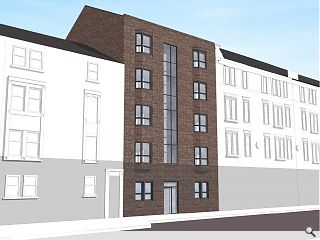 Thenue housing association and Assist Design have come forward with revised plans for 10 infill flats on Dalmarnock Road, within the Bridgeton Conservation Area of Glasgow.
Succeeding an earlier proposal for 12 homes the revised bid adopts a symmetrical brick frontage in step with the roofline of neighbouring tenements. Centred on a slim glass curtain wall denoting the stairwell and framed by two banks of oriel windows.
The rear elevation will breach the building line in order to accommodate the required footprint for Housing for Varying Needs standards.
In a planning statement detailing their approach, Assist wrote: "The proposed front elevation is of masonry construction and aims to re-connect the neighbouring properties of different styles, acting to stitch the city block elevation together. The proposed elevation also references surrounding buildings and respects key heights within the streetscape."
Currently occupied by a sandstone tenement the constrained site is presently in process of demolition.
Back to June 2019