Aberdeen street given a lift by a replacement villa
|
Send to friend
June 3 2019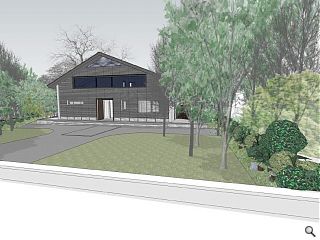 An Aberdeen home is to be bulldozed in favour of a Passivhaus standard contemporary villa set behind a series of horizontal circular section louvres for shelter and privacy.
A more open elevation to the south of Carnegie Gardens will include large areas of glazing as well as large format sliding doors to connect a subterranean storage area to the garden, above which will sit a large external terrace and balcony.
In an associated planning application, Graham Mitchell Architects wrote: "The principal street elevation is to be finished with a series of horizontal circular section louvres in a metallic grey finish. These are intentionally taken across the windows at ground-floor level to provide security and partial screening to the spaces behind.
"From a distance, the close spacing of the louvres will ensure the façade is read as a cohesive whole, with a furrowed surface finish, serving to shield the building from the cold north-east. Windows will be strategically positioned within this skin, appearing only in the evenings when room lights are turned on."
Glazed pneumatic lifts will connect the lower floor to the main living area and apartments above, all sitting below an overhanging slate roof which offers shelter to the spaces below.
A more open rear faced will make the most of views to Rubislaw Den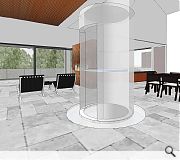 Glazed pneumatic lifts will provide access through all three levels of accommodation
Back to June 2019