Caledonian Sleeper service beds down with refreshed carriages
|
Send to friend
May 17 2019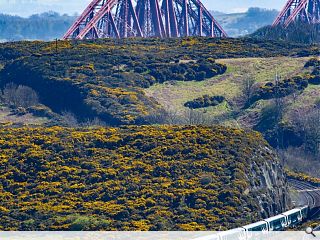 Caledonian Sleeper services are to be expanded with the roll out of a new Highland route from June 2019, sporting 'hotel on wheels' decor created by Edinburgh-based interior designers Ian Smith Design on behalf of Serco.
Confined to constricted cabin space Smith has created a series of contemporary rooms, some with en-suite toilets and showers, as well as reclining seats, storage lockers and reading lights. These spaces will be served by a new look Club Car employing oak, grey, tan and blue fabrics to foster a relaxing and welcoming environment.
Smith said: "As someone who travels by train a lot I wanted the design to move away from impersonal and utilitarian nature of modern trains to give guests a feeling that their comfort and experience of travelling on the Caledonian Sleeper would not only be a memorable one for the tourist but also a matter of choice for the regular traveller".
Ryan Flaherty, Serco's managing director of Caledonian Sleeper, added: "The design, look and feel of the new trains is a world away from the previous service and the feedback from guests really cements this.
"It was important to us to work with a Scottish designer that understood that what we were trying to do was move away from being purely a functional transport service and instead create a hotel atmosphere."
As part of the work guest lounges at Inverness, Fort William, Dundee, Leuchars and Stirling have al.so been updated.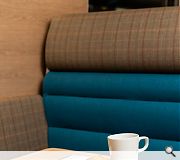 A new look Club Car will provide scope for both socialising and being alone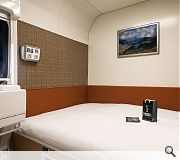 Images by CFH Photography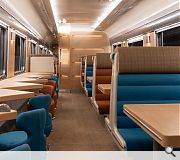 Soft and discreet lighting illuminates the new look club car
Back to May 2019