Rooftop extension to bring new gravitas to Victorian offices
|
Send to friend
May 1 2019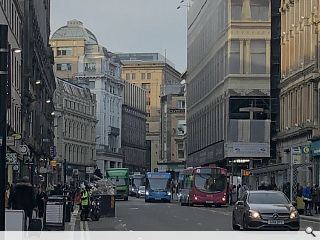 McGinlay Bell Architects have stepped up to the challenge of converting a vacant Victorian office building for modern office use with proposals for a dramatic rooftop extension in the heart of Glasgow's CBD.
This would see a B-listed building on the corner of Renfield and St Vincent Street extruded upward by an additional two floors behind precast concrete columns erupting from the existing blond sandstone façade.
At the same time, accessibility and service improvements would be conducted internally including a redesigned entrance area to match the aesthetic of the rooftop extension.
Detailing their approach the practice wrote: "The detail of the new element of the extended façade is heavily influenced by the rhythmical and rational nature of the existing massing. McGinlay Bell has turned to precast elements, pigmented to match the existing stone for the external skin of the new element, which reinforces the building's connection to the context.

"The choice of pre-cast as a material is driven by the stone city and is a key way to giving some meaning and memory to the new element. The pre-cast has a texture, is traditional, timeless, simple, authentic, economical and a well ageing material."

If permitted the work would deliver 2,300sq/m of grade A office space.
Back to May 2019