Architects invited to design a new spire for Notre Dame Cathedral
|
Send to friend
April 17 2019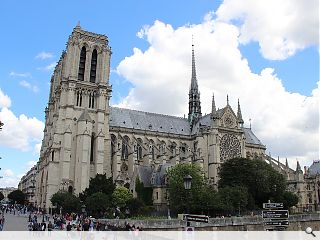 The French government has invited architects to draft designs for a 'new spire' to stand tall above Notre-Dame cathedral following a devastating fire which destroyed a nineteenth-century replica of the original medieval design on Monday.
Prime minister Edouard Philippe issued a global call to arms for architects to design 'a new spire that is adapted to the techniques and challenges of our era' as part of a rapid reconstruction effort which seeks to rebuild the Unesco World Heritage site within five years.
Speaking to BBC Radio Scotland Urban Realm editor John Glenday said: "Buildings embody much more than the bricks and mortar which go into their construction. They tell a story over time and never stand in isolation.
"Notre Dame is more than the sum of its parts it's about the setting and contribution to the wider cityscape, history and culture. Becoming an integral part of the city and belonging to everyone in the process as a backdrop to daily life.
"We tend to assume that these grand stone structures are eternal but as we see that's very much an illusion and buildings can disappear, literally overnight."
French businesses have pledged a combined £692m to fund the reconstruction, sparking a debate as to whether to reconstruct the lost spire to designs by French architect Viollet-le-Duc or build a contemporary interpretation – similar to the debate surrounding the Glasgow School of Art.
Back to April 2019