Linlithgow container village courts start-ups
|
Send to friend
April 3 2019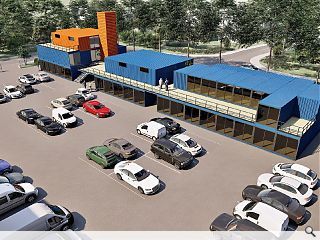 An industrial estate in Linlithgow is to reposition itself as a sustainable business village with the introduction of flexible office space in a series of repurposed shipping containers.
Project Contempo is being backed by SRA Ventures to the tune of £5m, with the aim of transforming the Mill Road Industrial Estate into an eco-friendly address.
One of several new incubator business parks planned around the UK it will provide space to aspiring small businesses seeking to establish themselves.
SRA owner Shaf Rasul said: "#Projectcontempo is a unique, mixed-use commercial development of a type that we believe has never seen before in Scotland. We think it will inject fresh life into the estate while significantly reducing the carbon footprint of occupants.
"Disposing of surplus shipping containers is an expensive and environmentally damaging process. Upcycling them is a much more ecologically-friendly and cost-effective alternative.
"The buildings will be designed to maximise natural light and therefore reduce energy costs in tandem with efficient LED lighting and solar panels that will meet most of the energy requirements of the development."
The retrofitted containers will include a mix of trade counters, a restaurant and café as well as a workshop and office space.
Back to April 2019