Tri-directional footbridge to reconnect North Glasgow canal communities
|
Send to friend
April 2 2019
Scottish Canals have formalised plans to introduce a new footbridge at the Stockingfield Junction of the Forth & Clyde Canal to reconnect a section of towpath severed by the construction of the Bowling canal branch back in the 18th century.
Designed by engineering firm Jacobs to accommodate both pedestrians and cyclists the tri-directional bridge will connect Gilsochhill, Maryhill and Ruchill with a single link, all overlooked by a large pylon observation deck.
Along the way, a statement 'Big Man' sculpture has been jettisoned in favour of a more practical pylon form, partially raised above the ground to reduce its length.
In a statement, the engineers wrote: "This structurally efficient solution when married to the inclining topography on the Ruchill hillside, derived a form of structure that allowed for the creation of an open observation area, level with the backstay foundations."
LED projectors will be mounted at strategic points along both banks to bathe the structure in light.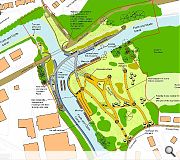 Landscaping will further embed the bridge infrastructure within its surroundings
Back to April 2019