Copenhagen rides again on Hope St
|
Send to friend
August 18 2008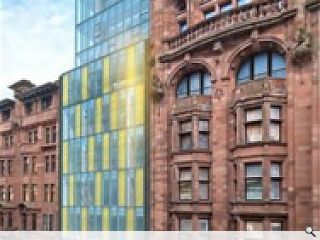 New images have been published by developer Rob Hill of gm+ad's under construction Copenhagen Building, so named after the Duke of Wellington's horse which served in the Battle of Waterloo. It is hopeful that reincarnation of the former racehorse can pull this development ahead of the current office pack.
The Copenhagen Building will interlink two Edwardian office blocks creating open plan Grade A floor space. An all glass facade with set back colour panels is designed to complement and not compete with ornate adjoining facades with uppermost floors set back in line with the neighbouring roofscape. The reception area will incorporate a 3 storey high void space for vertical circulation.
Employing a stereotypical glass box archetype, the build manages to seamlessly meld adjoining Edwardian elements to a greater whole by deferring architectural authority to listed neighbours. Interest is provided by coloured panels but not being intrinsic to the curtain walling these lack authenticity, considered feature blonde and red glazing could have brought about a stained glass effect not inappropriate to Edwardian character.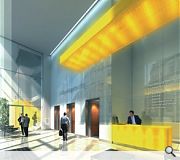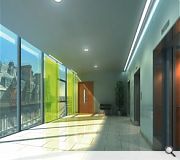 Back to August 2008