Kennishead tower blocks give way to low-rise homes
|
Send to friend
February 14 2019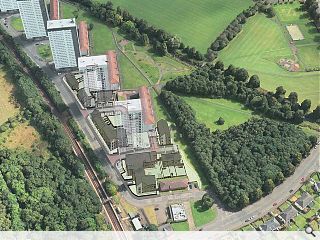 Glasgow City Council have granted planning consent for the erection of 48 low-rise homes on the site of two former 24-storey tower blocks in Kennishead.
A mix of houses and flats will now be built Kennishead Avenue adjacent to the King George V park by the Wheatley Group to designs by Cooper Cromar, connecting to retained maisonettes and flats.
New homes will be defined by feature gables flanking road access to serve as 'gateways' to the new homes.
In a material statement the architects wrote: "The existing painted/render materials in the vicinity have generally not weathered well. It is our intention to utilise a buff brown facing brick throughout the development that offers a degree of variation within its texture. A highlight brick colour will also be selected."
Connections to a community hall and the park will also be maintained.
Back to February 2019