Inverness waste recycling centre proposed to clean up the Highlands
February 13 2019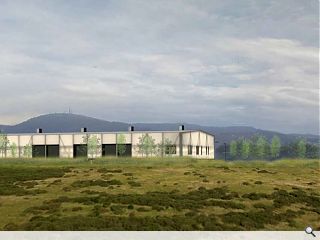 Highland Council has put forward plans for a 3,000sq/m coastal materials recovery centre in Inverness to prevent biodegradable municipal waste from finding its way to landfill.
Adopting an expressed steel structure the single span warehouse will rise above a 'heavy plinth', employing a transparent polycarbonate panel system to reduce apparent impact. Oversize entrance 'cut-outs' will puncture this envelope to aid wayfinding.
During the day this will allow sight of its inner structure while at night the warehouse will 'glow' from inner light, a conscious allusion to the maintenance of a clean and clear environment.
In a statement, the council wrote: "By separating the inner precast wall from the structure and allowing the box skin to pass over this steel, the structural skeleton will be clearly articulated externally. Distinguishing the different building component parts into separate elements, breaks down the mass of the building and allows the building's structure to be seen and understood."
The central facility will process up to 83,000 tonnes of the 140,000 tonnes of waste produced each year across the authority area, recovering recyclable material and dispatching the remainder for incineration.
Currently, just 43% of waste in the Highlands are recycled with the remainder dumped in landfill.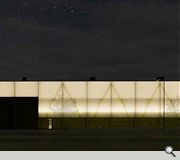 By night the facility will 'glow' with inner light
Back to February 2019