GSA secure funding for 'Passivhoos' social housing study
|
Send to friend
January 31 2019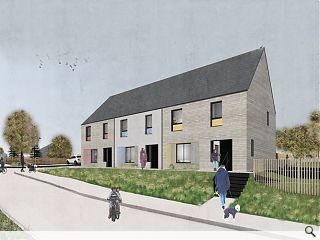 The Glasgow School of Art has been awarded a £182k grant to explore a distinctively Scottish approach to Passivhaus building; through exploration of housing typologies most likely to deliver the greatest benefits and encouraging greater adoption of low-energy homes.
Led by The Mackintosh Environmental Architecture Research Unit and backed by John Gilbert Architects, Stewart & Shields and Design Engineering Workshop the Passivhoos project who will run for the next three-years, after winning the financial backing of Innovate UK through a Knowledge Transfer Partnership (KTP).
This will enable an in-depth exploration of issues relating to improving buildability, pinning down costs and closing the performance gap between predicted and actual carbon emissions.
Matt Bridgestock of John Gilbert Architects commented: "We are delighted to be working on our second KTP with The Glasgow School of Art, and really focusing on eliminating the performance gap and fuel poverty in new housing. In particular, we aim reduce cost, improve the supply chain and bring innovative architecture to new social housing."
The Passivhoos standard was developed by John Gilbert Architects as a mechanism for bringing Passivhaus design standards into new social housing to reduce fuel poverty and rent arrears while improving resident satisfaction.
Back to January 2019