Professor Brian Evans named as Glasgow's first city urbanist
Send to friend
* Required fields
|
Send to friend
January 24 2019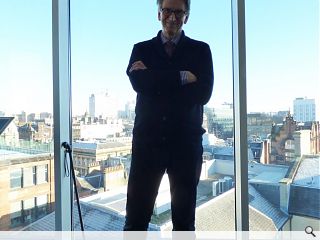 Glasgow City Council has turned to Brian Evans, professor in urbanism and landscape at Glasgow School of Art, to perform the newly created role of city urbanist, following a manifesto pledge to appoint a new city architect.
The part-time position will see Evans serve as a bridge between the council, communities and developers in his independent role as a strategic adviser on place, design and the city over an initial three-year period.
Speaking to Urban Realm upon his appointment Evans remarked: "This is an independent position. I'm not a member, officer or employee of the city, I'm a strategic adviser on place, design and the city. I have no executive authority and don't speak for the city, that's the responsibility of the city leadership.
"I can speak about the city of Glasgow as opposed to Glasgow City Council. A lot of people don't make that differentiation, but I think it's interesting that in talking to me about the role the council make that distinction themselves."
One of his first roles will be to help oversee the establishment of a 'place commission' for the discussion of ideas which can help shape the design of Glasgow as an international city, a metropolitan city and an everyday city – with emphasis on the latter.
Evans' appointment follows an invitation to selected practitioners in the fields of urban design, architecture, urbanism, landscape architecture and planning.
Back to January 2019