NHS Lothian progress Western General renal unit
|
Send to friend
January 21 2019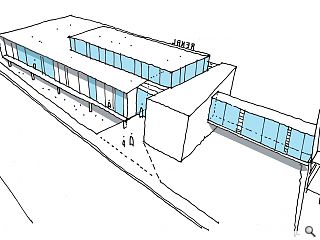 NHS Lothian are seeking permission to erect a purpose-built renal unit within the grounds of the Western General Hospital to house clinical, staff and support accommodation.
Initial sketch perspectives by HLM Architects show how an expected increase in demand for dialysis treatment could be met through a new build solution off Hospital Main Drive via a split-level response, allowing ground floor access to both front and rear.
In a design statement HLM wrote: "Building on the initial site response, the intent has been to develop an appropriate scaled building which presents itself as a single storey building to Hospital Main Drive. Using the natural changes in level allows additional facilities to be accommodated at the lower ground level, effectively dug into the slope, presenting a 2 storey building to the lower level.
"This in effect allows the new renal unit to respond effectively to the existing scale of Hospital Main Drive and creates a low lying 'flat' roofed building which responds to the stepped horizontal plane of the existing context.
"The roofline is then punctuated with a simple glazed lantern which steps up towards the Peter Wormsley building."
The new unit will be clad in concrete/GRC cladding and connected to the main hospital by a bridge link, replacing 30-year-old modular accommodation.
Back to January 2019