Dystopian depiction of a ruined future Glasgow earns GIA praise
December 4 2018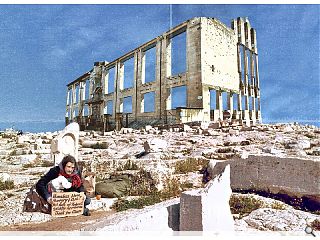 The Glasgow Institute of Architects have published the winners of this year's Alexander Thomson scholarship competition, which tasked entrants with imaging what the city might look like in the year 2168.
Peering into his crystal ball Craig Higgins won out with a topical vision of the hollowed husk of Glasgow School of Art standing amidst a shattered landscape populated by beggars.
'Look Down' presents a bleak vision of the city 150 years from now in order to raise awareness of contemporary ills, with Higgins advancing the view that the city is not about buildings but the people who inhabit them. He warns that today's focus on gentrification and conservation risks expanding an underclass of the dispossessed, as architects too often turn a blind eye to the problems around them by fixing their gaze upwards.
Higgins wrote: "We live and practice in a city where we no longer even look at the homeless sleeping around our feet because our eyes are fixated on the bricks and mortar above us. The tenements that were built to alleviate the conditions of the poorest in society are now preserved for the affluent, while today's poor make do with cheap imitations.
"We forget that the buildings we worship were built for and by the people of Glasgow. We stop dead in our tracks to mourn the loss of a beloved building, and dedicate millions to its restoration, but stride past those in our city who are living in constant need. I hope in 150 years that we as a profession will have learned once again to stop and look down."
GIA guest judge Toby Patterson praised the work for conveying 'issues of today through the lens of tomorrow', adding that 'science fiction is always really about the present' and concluding that 'righteous anger can be turned to positive effect'.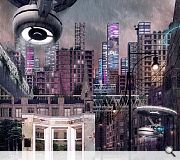 Nathan Cunninghame earned a commendation for his neo-noir depiction of a hi-tech and high-rise city
Back to December 2018