Dundee dockside earmarked for 122 waterfront flats
December 3 2018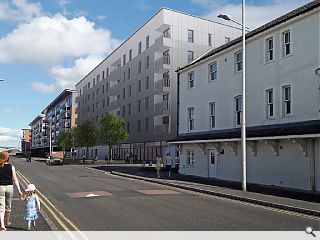 JM Architects have firmed up their proposals for new waterfront housing at Dundee's City Quay with the submission of detailed design proposals for the waterfront plot.
Occupying a surface car park the scheme would deliver 122 flats spread across twin six storey apartment blocks, each bookending an expanse of surface level parking. A corner retail unit to the north block is also provided for.
Designed to reinstate a continuous street frontage along Victoria Quay both blocks will rise above a ground floor parking court with the affordable housing element of the scheme operated by Hillcrest Housing Association.
Detailing their chosen approach JM wrote: "The development uses brick to form a plinth. The upper levels will be clad in a high-quality fibre cement panel giv¬ing the development a visually homogenous and crisp urban appearance and unique visual identity. The panels run uninterrupted in all soffits and reveals and will be designed in such a way as to articulate the facade thus accentuating the carved form of the design.
"Moreover, the seemingly random window pattern, play between recessed and projecting balconies and hit and miss cor¬ners further emphasise the playful sculptural quality of the development."
All apartments will include full height glazed balcony doors opening off the living rooms.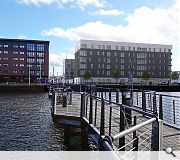 Homes will rise above a robust brick plinth
Back to December 2018