Glasgow office market back in rude health
October 25 2018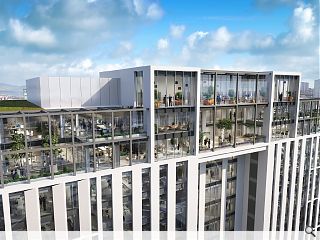 Dem-Master have moved on site with the demolition of Glasgow's Corunna House as a first step in the delivery of a 227,000sq/ft office block designed by Cooper Cromar.
Rising over 12 floors The Grid will combine a double-height reception space with a café and concierge as well as co-working areas, breakout spaces and outsize stairs which double as an informal meeting space and auditorium.
At the other end of the building the uppermost three levels benefit from south facing balconies dominated by a double-height sky garden. A communal rooftop business lounge and garden completes the accommodation mix.
Marketed as a 'healthy' building the developers are partnering with the International Well Building Institute which certifies its own rating standard for factors relating to building design, construction and management that are thought to contribute to the health and 'wellness' of occupiers.
Site clearance ought to conclude by April next year with full completion scheduled for late 2021, a year later than initially planned.

Back to October 2018