Hotel developers remain 'positive' in Royal High School planning battle
October 24 2018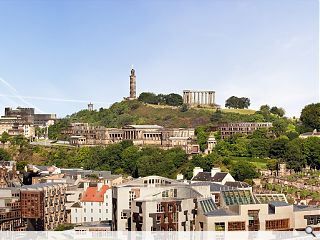 Duddingston House Properties and Urbanist Hotels, co-developers behind a hotel vision for Edinburgh's Old Royal High School, have reaffirmed their commitment to press ahead with the project following a public inquiry.
Over the past month the Scottish government has been considering evidence in the developer's vision to bring a 'world class' Rosewood Hotel to the city, despite the Hoskins Architects design being thrown out by the city council last year.
That decision prompted both developers to lodge an appeal with government reporters, who suggest that their initial findings will be presented in spring 2019.
Updating on the progress so far David Orr, co-founder of Urbanist Hotels said: "We are, as we always have been, very positive about bringing this world-class hotel development, and its associated investment and jobs, to Edinburgh, and to Scotland.
"The inquiry clearly presented a wide range of positive evidence from a large array of witnesses in support of the hotel proposal, and we remain steadfast in our view that it provided the right forum to discuss such a complex, emotive and divisive issue."
A rival bid to transform the Calton Hill landmark into a music school won planning permission back in 2016 but is unable to proceed until expiry of a hotel agreement between the council and hotel developers in 2020.
Back to October 2018