Aberdeen selects Danes for new library project
July 6 2006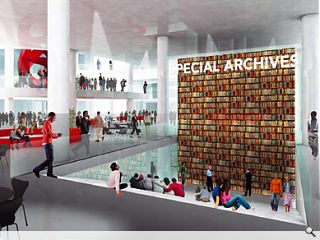 The University of Aberdeen has selected Schmidt Hammer Lassen, a Danish practice, to design a £55.5m flagship library. The library is part of the university\'s ten-year investment in its £228m capital development programme, which includes the £16 million Matthew Hay project, a purpose-built facility for medical education by Bennetts Associates, and a £23m Aberdeen Regional Sports Facility, which received outline planning approval last week. The library will provide facilities for the university's 13,900 students, replacing the existing Queen Mother Library. The new building will also house the university\'s historic collections comprising more than 200,000 rare books and over 4,000 archive collections. It is expected to be open by 2010.
Schmidt Hammer Lassen, which designed the Royal Library in Copenhagen also known as 'the Black Diamond', was appointed following an international competition that attracted almost 100 expressions of interest, 40 full submissions and a shortlist of six.
Members of the SHL team have presented their proposals to Aberdeen City Council and will consult with the local community on a regular basis.
The project is one of the largest fundraising campaigns to be undertaken by a UK university for a new library. The library will be used by the local community as well as staff and students.
Back to July 2006