Sauchiehall Street co-working space to power regeneration
October 8 2018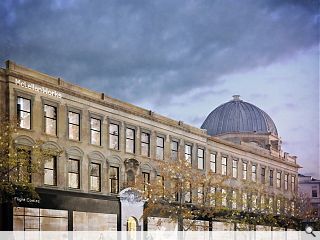 Fresh impetus has been given to the timely regeneration of Glasgow's Sauchiehall Street with proposals to repurpose an underused building as a co-working space for small and medium sized businesses.
McLellan Works will see Bywater Properties incubate a curated mix of shops and restaurants as part of an expanded offer when the revamped building opens in autumn 2019, while also continuing to serve as the main entrance to the McLellan Galleries.
This would include 3,200sq/m of office space over three upper levels with public spaces arranged around a new central entrance.
Stallan-Brand will undertake a redesign of the current building to accommodate its new uses, with design agency Graphical House concurrently devising a new brand identity, to coincide with a £7m public realm investment.
Keri Monaghan, project architect at Stallan-Brand, said: "This dynamic project offers the opportunity to unlock a piece of Glasgow's history by reinstating the presence of the McLellan Galleries on Sauchiehall Street. We are delighted to be a part of these proposals to re-establish the city's connection to a piece of cultural heritage while also maintaining a listed building, delivering attractive office space, and contributing to the ongoing improvements being made to Sauchiehall Street."
Page\Park have previously filed plans for a remodelling of the galleries themselves.


Back to October 2018