Strontian parents pioneer innovative school funding model
September 27 2018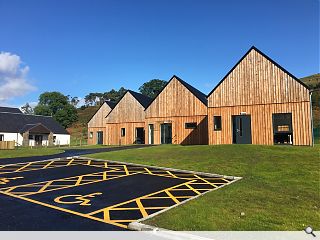 The Highland community of Strontian has taken possession of a £900k primary school built after parents joined forces to reject proposals to refurbish and extend an existing 1970s building.
The radical step was taken to pursue a new build solution in order to provide modern accommodation for around 30 pupils by forming a community-led company to carry out the work, all of which was funded through a shares issue and grants.
Built on land owned by the Highland Small Communities Housing Trust the unique design has the distinction of being readily remodeled as four separate homes should future education requirements change.
Outlining the unconventional approach one parent, Jamie McIntyre, told the BBC: "Quite casually, we said 'how much to build a new school here?
"To their credit they went off and costed the plan and put it to the council and proposed the model we have here, which is that we finance, design and build the school and we lease it to the council for use as long they need it for a school."
The school is currently being leased to Highland Council but should pupils ultimately relocate to a nearby secondary school conversion work can be carried out relatively quickly and easily.
Pupils and staff are set to move in on 30 October at which point the development loan will be converted to a mortgage.
Back to September 2018