Alexandra Park inspires 'aspirational' Haghill homes
September 17 2018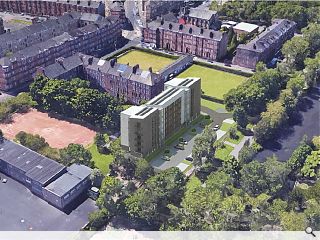 Grant Murray Architects acting on behalf of the Home Group have brought forward plans for 36 flats on the site of a former nursing home in Haghill, Glasgow.
Briefed to create 'aspirational homes' appropriate to the prime setting overlooking Alexandra Park the development will adjoin the 'dead gable' of an adjoining tenement where the Victorian tenement boom ground to a halt, with a six-storey new build with reduced floor to ceiling heights to sit below the tenement datum.
In a statement the architects wrote: "The form is proud to be thoroughly modern, seeking as it foes, to create its own distinctive architectural language. Razor sharp corners and clean lines are prevalent throughout, modern materials have been promoted and large areas of glazing have been introduced.
"The structural possibilities afforded by the steel frame have also been seized by creating dramatic projecting landings and balconies that provide memorable experiences and vistas."
Reinforcing the building line around Kennyhill Square the contrasting brick scheme includes a 15m deep backcourt area.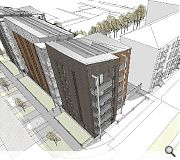 A 30 degree roof adds to the sharp angular form of the contemporary build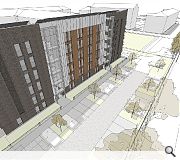 Contrasting dark and red brick help[ to break up the massing
Back to September 2018