Paisley reverses pattern of decline
|
Send to friend
July 30 2008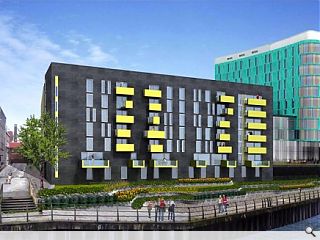 Paisley town centre looks set to receive a welcome boost if SMC Davis Duncan Architects vision for McGarvey Construction is realised.
The ambitious £30 million development encompasses 3 distinct buildings defined by use and threaded together within an expansive ground level atria. Introduction of a 139 room, 4* hotel with rooftop bar, gym & conference facilities alongside 70,000 sq/ft of office space and 26 new apartments will breathe new life into the town centre. The development is located on a key brownfield site adjacent to Gilmour Street Station and the White Cart river.
The developer aims to use this investment as tool for forging a new business quarter in the heart of a town hit in recent years by the leaching of trade to purpose built malls at Braehead and Silverburn.
James McGarvey, managing director of McGarvey Construction, said: "
We think this is a really exciting development which could change the face of Paisley.


"Bringing together the hotel and luxury apartments alongside some brand new office space would really encourage people into the heart of the town.


"Given the town's great transport links I thought it was ideally placed for this development. Paisley is an attractive and vibrant town and I am confident in our investment.
"
The primary hotel block is draped within a pre-oxidised copper envelope punctured by de rigeur Rafael Moneo inspired offset windows. Rectangular in form the mass is softened by a glazed curvature to respect the White Cart riverfront.
Use of vivid colour is extrapolated into the residential wing where a black stone clad block serves as canvas to a projecting sequence of primary coloured balconies, cleverly echoed by the daffodils of an enhanced public realm. An office block completes the trinity, comprising a conventional glazed curtain wall defined by stone outline. A tinted crown references the hotels hue.
Back to July 2008