Meadowbank Stadium reaches end of track
|
Send to friend
July 30 2008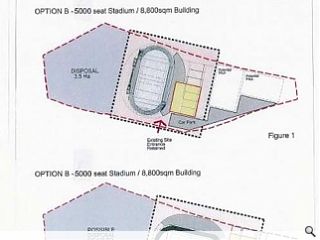 Plans by Edinburgh City Council (ECC) to demolish Meadowbank Stadium have encountered opposition from more than 1,200 objectors.
Campaigners ire centres around plans to sell off a proportion of the land for the development of housing. Proceeds from this sale would be used to finance replacement provision on the remainder of the site.
The stadium was built for the 1970 Commonwealth Games by Edinburgh Council's in house architects. Of little visual appeal generally the grandstand has attracted affection in some quarters for a clearly expressed skeletal system of concrete beams and columns.
Concerns remain at the condition of the surrounding neighbourhood which consists of redundant office space and light industrial units, ill becoming of a strategic slice of capital real estate.
Despite the market downturn potentially depressing land prices, ECC are keen to press ahead. The council regard the site as instrumental in alleviating pressure on the cities greenbelt and mitigating high rise intrusion upon the protected skyline.
Back to July 2008