'Hybrid' homes touted as the future for rural regeneration
August 9 2018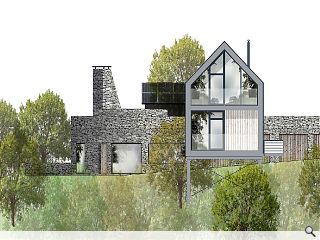 Lucid Architecture are pioneering an innovative housing development which blurs the boundaries between tourism and co-housing at Ferry Brae, Kilcreggan.
The scheme takes the form of seven small 'hybrid' homes designed with the flexibility to be utilised as tourist accommodation, second homes or co-housing - defined by shared facilities on communal land including a renewable energy system, meeting space, sauna, kitchen, workshops, storage, recycling and outdoor terraces.
Lucid will act as architect-developer for the build which seeks to address an identified shortfall in mid-scaled rural developments by introducing more innovative delivery mechanisms.
In a statement Lucid wrote: "The new accommodation provides an important example project of how modern housing and tourism can develop beyond the traditional 'executive villa' type of plot style housing or 'chalet park' tourism development and shows a more mixed and flexible type of end usage that is better integrated into the village. The public and shared elements of the design provide interest among the units themselves and also within the area.
"The project is build-able and deliverable. It has already generated significant positive interest both locally and further afield due to offering an alternative approach to living, working, tourism, landscaping, energy use, materials and space planning plus co-ownership of shared accommodation and land."
Landscape architects ERZ are working with Lucid to create a pedestrian path from the site to the village centre, along with a native tree-planting strategy designed to resolve recent land degradation.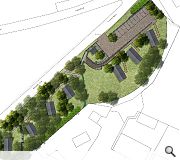 Dead trees, invasive species and past detritus will be cleared from the site as part of a landscaping strategy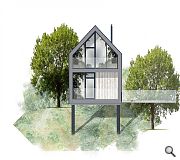 Seven elevated hillside properties will be built, addressing a houing shortfall in the area
Back to August 2018