84 terraced Easterhouse homes lined up
|
Send to friend
July 12 2018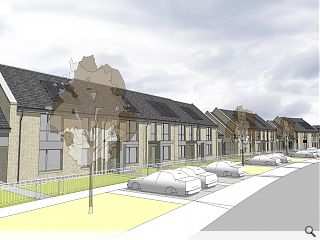 Lochfield Park Housing Association and Grant Murray Architects are pushing to build 84 homes at Abbeycraig Road, Easterhouse, to replace a former school and playground.
Consisting of terraced homes and flats, eight of which will be wheelchair accessible, the low-density scheme conforms to a standardised design of two-storey homes under 40 degree pitched roofs to deliver a 'traditional form with a fresh contemporary twist'.
In a statement the architects wrote: "The primary challenge with terraced housing and which generally limits their length, is accessing and collectinbg the bins. Achieving longer terraces that would offer increased numbers and create a stronger residential street characteristic was therefore closely linked to overcoming this challenge on the layout.
Weathered facing brick is the prevalent material utilised. Incredibly well suited to the Scottish environment it is rightly enjoying a resurgence in popularity.
One in ten of the homes will have larger door openings as well as gabled car ports offering direct covered access to the home.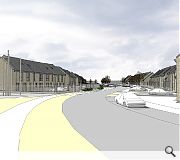 Brick detailing in the form of soldier cills and areas of protrusion have been extensively utilised to add further interest and subtly break up the elevations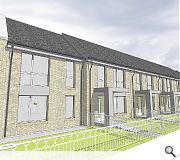 Windows will be aligned to the front and staggered to the rear in order to distinguish one from the other
Back to July 2018