152 student flats in store for Edinburgh's Gorgie Road
|
Send to friend
July 5 2018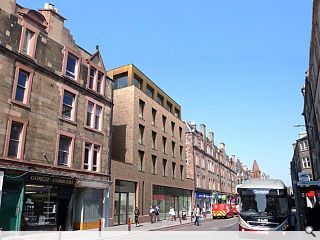 Retailer Scotmid has teamed up with developer Structured House Group to submit joint plans for the development of a new convenience store and 152 student apartments at 236 Gorgie Road, Edinburgh.
Scotmid will vacate their current premises on the site to facilitate the build before returning to occupy a fully glazed ground floor unit, with cluster-style apartments stacked above in four upper levels.
Craig Inglis, SHG's Chief Executive, said: This is a major development for Scotmid and we are proud to forge a partnership with a co-operative that has strong values and a history of supporting its local communities. Bringing local amenities together with student accommodation will further strengthen our offering for students in the area and bring a significant boost to the local economy."
Devised by Manson Architects the chosen solution is not expected to complete before 2020 although Scotmid hope to re-open on site by the end of 2019.
Back to July 2018