Last orders called for Water of Leith pub
|
Send to friend
July 4 2018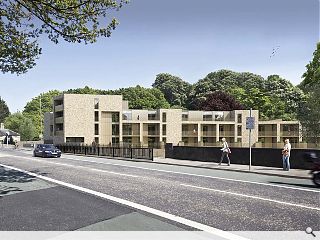 ISA have called last orders on a disused pub on Edinburgh's Lanark Road after lodging proposals by Thistle Residential to
erect 25 flats
in its place.
Overlooking the Water of Leith, at the point where it is crossed by the Union Canal, the project steps down in height from a four storey 'sculptural' corner element to a two storey block to the south with massing further broken up through the use of a stepped parapet and recessed balconies.
The primary river frontage will offer a direct connection to the waterfront with masonry piers delineating the boundary of each flat.
In their materials statement the architects wrote: "A self coloured blonde brick has been selected to give the development a domestic character and scale while providing a solid, robust expression to reference the civil engineering of the adjacent Union Canal Aqueduct and Caledonian Railway viaduct.
"The brick's natural variation in colour and texture add richness to the facades. A light satin bronze colour is proposed for the window frames, cladding and balustrades to give a consistent language to all metal work and to complement the natural colour of the masonry."
Landscape design is being handled by RankinFraser, mixing a hard entrance court to the north east with planting marking the boundary with retained woodland.
Back to July 2018