Ratho canal corridor to provide waterfront housing
|
Send to friend
June 19 2018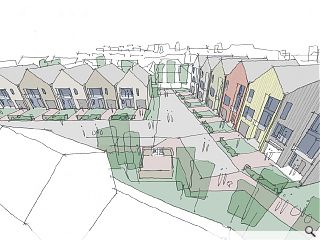 Located on the edge of the Ratho conservation area the project seeks to reinforce the existing streetscape while respecting the historic character of the area, employing shared surfaces to deliver a pedestrian focussed design.
In a statement EMA wrote: "The proposed simple gable form and scale of the proposed dwellings maintain the character set by buildings in the area.
"A consistent approach has been taken with the form and mass of the proposed dwellings with strong gable forms and steeply pitched roofs-characteristics of the conservation area."
Facing brick is adopted as the principle exterior finish with coastal-style timber cladding employed at the waterfont to help define the towpath corridor.
Back to June 2018