Devastating fire leaves Glasgow School of Art in a parlous state
|
Send to friend
June 16 2018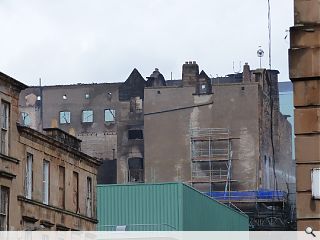 Glasgow School of Art has found itself at the centre of yet another devastating fire just
four years after an earlier blaze
tore through one wing of the famous school, gutting its unique library.
The latest fire is far worse having spread rapidly through the building with apparent ease, taking the entire interior with it to leave only the walls standing.

Scottish Fire & Rescue Service area manager David Young said: "Damage inside is quite considerable.
Colleagues who were at the fire four years ago said it was less devastating than it is now.
"Damage is from one end of the building to the other. The roof is damaged and the floors. The building is in a poor state."
Given the extent of devastation this time around a contemporary interior behind surviving masonry may be the only option available.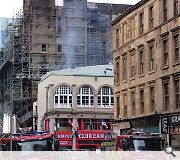 Sauchiehall Street was already reeling from an earlier nightclub fire that left another block cordoned off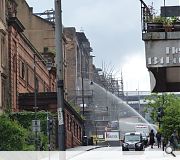 The fire began late on Friday night and was still smouldering on Saturday afternoon
Back to June 2018