Plean Street and Lincoln Avenue join demolition list
July 28 2008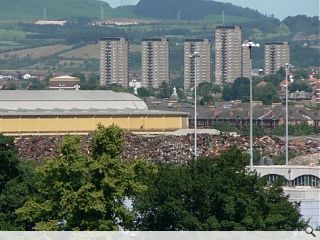 Eight tower blocks around Plean Street and Lincoln Avenue have been earmarked for demolition by Glasgow Housing Association in a phased treatment of works from 2010.
The estates are the latest victims of a reduced tenant base and in Lincoln Avenue's case, subsidence. They constitute the latest stage in an ongoing sequence of removals which is projected to see 10,300 homed demolished by 2022, the bulk high rise.
Complimentary to this program, a process of refurbishment is being undertaken. This sees popular flats reclad with new insulation and glazing. Many of these towers will be highlighted at night by neon crowns as part of a city wide lighting strategy.
Back to July 2008