Stalled Glasgow office bid makes way for hotel and student housing
|
Send to friend
June 7 2018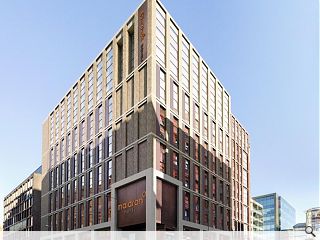 A stalled office development in Glasgow city centre could be brought forward as a mix of
300 hotel rooms and 446 student beds
following submission of new plans for the prominent junction of Renfield and Renfrew Street's.
In a summary of their bid Consarc wrote: "Over many years, various attempts have been made to reconcile an office building use on this site and there appears to have been limited financial viability to develop this particular use. It therefore seems that a more sustainable use for this site is a mixed-use development, one that brings variety and contributes to local business and tourism in the city.

"Contextually the existing vacant site is unsatisfactory, there is a tremendous opportunity to put back a missing urban block in this important site."
The chosen solution is a single brick and cast stone block separating out its different uses through the choice of a red and buff colour palette. Three external amenity areas are provided for in the student element including ground level courtyards and an upper terrace.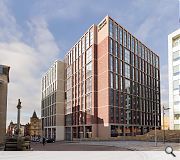 Renfrew Street will be activated by hotel bars and restaurants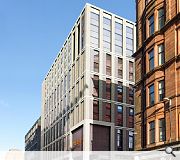 The student component of the build will be split between a mix of studio and cluster flats
Back to June 2018