CALA perseveres with Boroughmuir School conversion
Send to friend
* Required fields
|
Send to friend
June 6 2018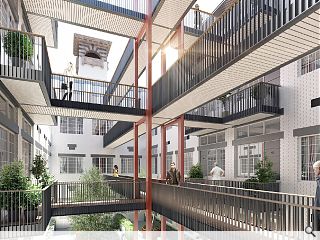 The primary complaint levelled at the 2017 scheme, that a new build tenement on Viewforth blocked views of the B-listed school, has been addressed by a 6m reduction in the gables width and removal of a brick 'angular corner feature element' and sloping zinc gable with an anodized metal panel penthouse floor.
In addition brick has been thrown out in favour of natural stone and misaligned floor levels now find themselves in harmony with a neighbouring tenement, courtesy of the removal of an awkward basement level and vehicle pend. A sloping zinc gable which also contributed to CALA's planning woes has been ditched in favour of a traditional slate roof.
As before the historic school would be retained in its entirety, save for several non-original extensions which will be replaced by newly landscaped gardens, with each classroom converted into a self-contained apartment with a large, double-height lounge/diner.
Central courtyards will be opened up for amenity use with lightweight 'bridge' structures crisscrossing the void to provide separate entry to each home.
Should planners give succor to the latest bid work could begin early next year.
Back to June 2018