University of Stirling under starters orders for £20m sports hub
June 4 2018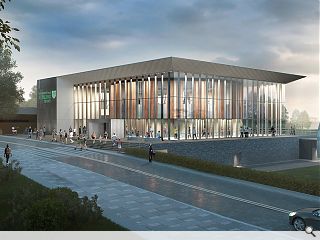 The University of Stirling has been handed the all-clear by councilors to progress a
£20m sports hub
, with work expected to get underway in the autumn.
Overseen by Faulkner Brown Architects the facility will be located within the existing Gannochy Sports Centre and takes the form of a brick plinth and glazed activity spaces topped by an oversailing rainscreen roof.
Documenting the planned appearance of the centre the architects wrote: "A simple two-storey 'Plug' holds onto a glass facade which opens up the building on three sides. The Plug extends over the glass facades, folding into an overhanging soffit created through an inclined roof form. The glazed frontage exposes a central structure made up of a base and a cylindrical drum that acts as a focal point."
Including studios, a fitness suite, sports hall, gym and indoor cycling studio the venue is expected to complete by summer 2020, augmenting existing facilities on the campus.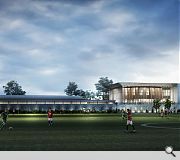 A central drum element plays host to the fitness suite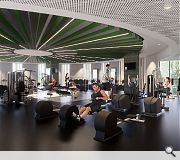 A large, glazed, active frontage will wrap around three sides of the building
Back to June 2018