Macallan uncork £140m Rogers designed temple to whisky
|
Send to friend
May 22 2018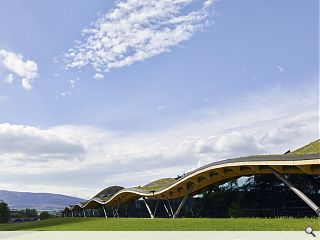 Edrington-owned whisky brand The Macallan have taken possession of a
£140m temple to Scotch whisky
following completion of its camouflaged Speyside HQ by Robertson Construction.
Located just 500m away from its historic home the state of the art distillery sits within the Easter Elchies estate near Craigellachie in Moray, resting beneath a gently undulating turf roof to help blend with the rolling countryside.
The expansive roof stretches to 14,000sq/m in total and includes a wildflower meadow to disguise ventilation, vapour control, waterproofing and irrigation systems. Custom-built to designs by Rogers, Stirk, Harbour & Partners it includes 2,500 largely unique panels and 380,000 individual components.
Lead architect Graham Stirk said: "The Macallan estate truly is a special place; a place we have come to love and respect hugely. The vision was always ambitious but this enabled us to challenge our own thinking to create something so dramatic and awe-inspiring."
Inspired by enigmatic broch architecture the hi-tech solution is a purposeful step into the future and a key differentiator with other distilleries, establishing itself as a key attraction in popular whisky tours when it opens its doors to the public on 2 June.
Back to May 2018