Aberdeen welcomes colourful characters in street art festival
|
Send to friend
April 25 2018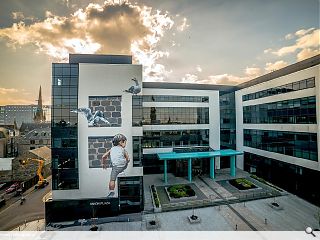 A host of prominent buildings and locations around Aberdeen have been given a street art makeover following this year's NuArt festival, an urban arts programme first established in Norway back in 2003.
Amongst the city centre locations to be given an eye-catching new look is the
Union Plaza
office block, which is now adorned by a seven-storey tall of a young boy climbing brickwork overseen by the city's omnipresent seagulls.
Bryony Spencer, associate director at Union Plaza manager JLL, commented: "It's been very exciting to work with NuArt Festival this year and see the artwork come to life at Union Plaza. We hope this shows off a different side to corporate Aberdeen and encourages the public to engage with the artwork and see the city in a new light."
The majority of works could remain in-situ for as much as sic years before the Aberdeen climate takes its toll although some of the smaller-scale ephemeral pieces will be scrubbed within a month.
Conceived by Lithuanian born artist Ernest Zacharevic the piece fits within the theme of 'A revolution of the Ordinary' in which 10 other international artists have also put their stamp on the city.
Back to April 2018