Hyndland homes hit headwinds
|
Send to friend
April 19 2018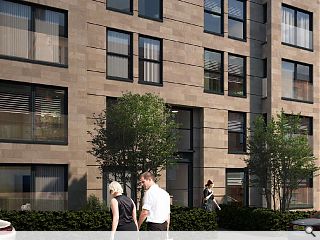 A bid by Westpoint Homes and Coltart Earley, together with LDA Design, to build 63 flats on the site of the former Middlefield School has hit resistance from planners who have raised a multitude of concerns including its planned height, roofscape, articulation and materials.
In an
addendum to an original submission
filed in November last year
the applicants seek to dispel these concerns, levelled principally at the flat setback roof, an approach said to 'jar' with the pitched profile of neighbouring tenements.
Officials have recommended removal of at least one storey from the planned block to avoid 'dominating' its surroundings, exacerbated by the choice of blonde sandstone rather than the red used throughout the street.
Countering such concerns Coltart Earley noted no 'undue concern' had been raised at the roof treatment during pre-application discussions, pointing to similar local examples where flat metal-clad roof extensions have been permitted. The architects further argue that the roofscape is 'subservient' to the 'urban wall' of the main elevation and thus shouldn't be judged on the basis of a simple extrapolation of ridge lines.
Addressing the use of blonde sandstone it was claimed that this material offered richer 'qualities' over red in terms of tone, reflectiveness and veining.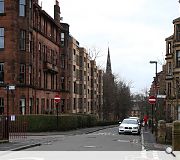 Fears have been raised that the new flats will 'dominate' their surroundings
Back to April 2018