Gaelic cultural centre brings vitality to South Uist
April 9 2018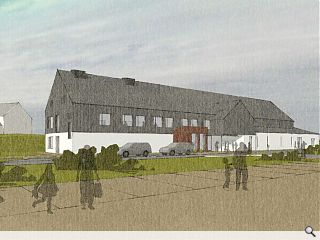 Lews Castle College, part of the University of the Highlands and Islands and Ceòlas have joined forces to drive forward a new centre for music, dance and Gaelic culture at Daliburgh, South Uist.
Cnoc Soilleir
(The Bright Hill) has been conceived by John Renshaw Architects as a contemporary re-interpretation of a Norse long house, divided into a public entrance space and auditorium and with office space and classrooms to the rear. A first floor recording studio will be positioned above the entrance foyer.
Formed from common building materials on the island such as stone, render, slate, metal and timber the centre will sit lower in the landscape than an adjacent church so as to avoid overpowering the scattered crofting township.
Providing shared facilities for its joint backers the centre will principally serve as a college facility but open up to the wider public during evenings, weekends and holidays.
Back to April 2018